A toy and teether - all in one!
We customize modern and stylish teethers that are soft, safe, durable and non toxic with 100% food grade silicone certified high quality beads. We specialise in personalisation, making our products the most practical and special keepsakes you'll find today.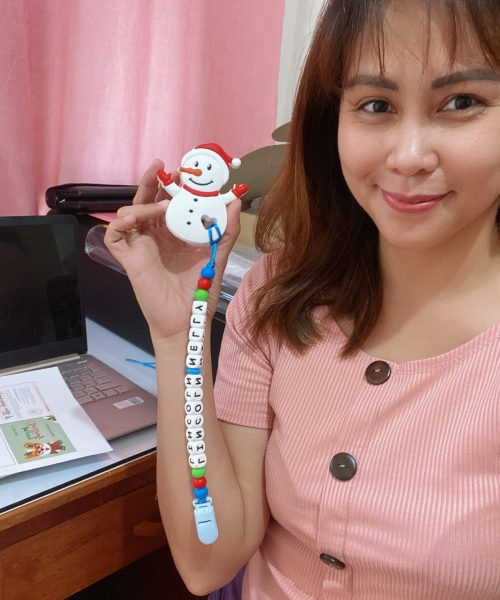 Three years ago, I had a dream to combine my passion for creating special items for babies with my entrepreneurial spirit. 
🌟🌟DREAMS REALLY DO COME TRUE! 🌟🌟
Now, Chewy is a one-stop shop for teethers and other baby essentials that will help make life easier for moms and babies everywhere. I'm always excited to be able to make a difference in this way and can't wait to see all the amazing things we will accomplish together! 
Joysee, founder of Chewy
Single Teether Php 220.00
Without Holder
Teether with Holder Php 390.00
5 Letters free add Php15.00/excess
With Add-ons: 
Php 390.00 + Php70.00/mini toy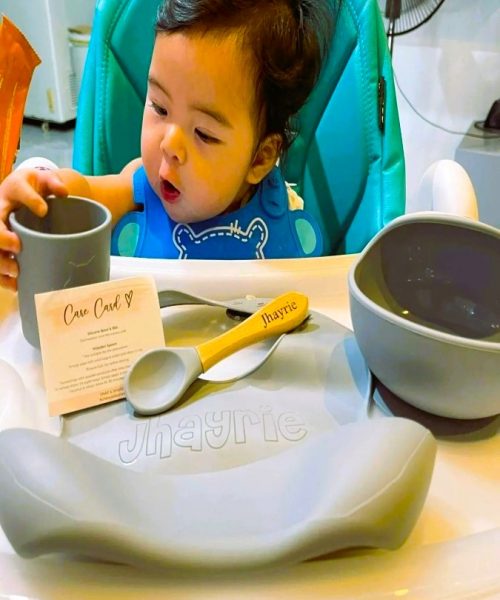 Designed to keep both parents and their precious little ones happy during mealtimes.
The strong suction base of the bowl and plate prevents any spillages and keeps food in it. Less mess, less stress! 💜
Sample Engraved Feeding Sets
"For it is in gifting that we receive"
Show your love and care to a new mum and her baby with a thoughtful gift today.
Great for occasions like Baby Shower, Full months or Birthday! 🎁
Mayang E. Samson(Mayang)
I bought many types of teether. I think he loves this one. Thank you! I also love your product. He likes it. Nag try na ako ng pacifier, teether, Ayaw nya, Ito gusto nya 🙂
Mayang E. Samson(Mayang)
Nhedj Plaras Dango
Nhedj Plaras Dango
Gian Lyza Miranda Quicho
Super thankyo po ang ganda po ng teether enjoy na enjoy yung baby ko. Godbless po.
Gian Lyza Miranda Quicho
Honey Langga Pahayac
Helo po received ko na po pla ang item super ganda po love na love po ng baby ko 🙂
Honey Langga Pahayac
Mhare Jay Lumacad(Bjang)
Thank you Chewy Silicone! Zen loves it so much jud haha makagigil. Order it through my sister nisabay mi ni cousin Ranya ug purchased ninyo hehehe
Mhare Jay Lumacad(Bjang)
Xhin Mahilum Doctolero(me)
Hello m'am receiv ko na po.. sobrang cute ng teether excited na ako pa gamit sa baby ko 🙂
Xhin Mahilum Doctolero(me)
Llyssa R. Pasaraba
Receive ko na po yung product ma'am. My baby loves it so much 🙂 thank you.
Llyssa R. Pasaraba
Karl Donica Galinzoga
Thank you again chewy silicon cebu. My baby enjoys it so much that everytime I take it off he cries.
Karl Donica Galinzoga
Belle Ember
I bought the product way back when she was 2 month old til now she still enjoyed using it. Truly these product comes with good quality
Belle Ember
Jennifer Tagalog
Enjoy kaau ako bb sa iyang teether..hehehe
Jennifer Tagalog
Tetel
Hi! I got the item already 🙂 Thank you. Quality is superb!
Tetel
Glaiza Angoy Murdaco(glai)
Thank you Chewy Silicone Cebu for this cute teether for Baby Jack!
Hello everyone try this Teether for your babies Dili jud mo mag mahay, DM @ chewy silicone cebu
Glaiza Angoy Murdaco(glai)